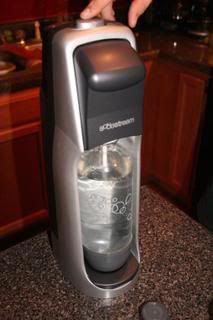 Over at Two Of a Kind, Working on a Full House
is letting one lucky winner have a chance to make their own soda at home with a soda machine, the
Soda Stream
from Soda Club USA!! So you can make your own soda from the comfort of your own home!! Just think about all the pop bottles you would keep out of the landfills!!

Apparently there are many flavours such as orange, root beer, cream soda and Cola to chose from. The nutrition information for soda made by this machine is much better when in comparison to other commercialized sodas and pop drinks so you can suffer no guilt when drinking their sodas!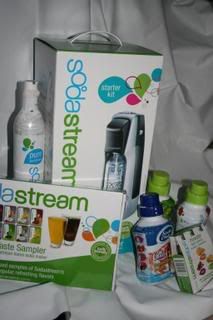 Soda-Club
is giving a Fountain Jet soda lover's start-up kit retailing for approximately $95 to one of my readers! This kit includes the Fountain Jet in your choice of color, 2 CO2 Carbonators(each will make about 60 Liters), 2 reusable BPA-free bottles, 3 economy sized flavors of you choice, and a variety of sample-sized flavors.