You know what gift is almost as great as something super luxe? It's a gift that can be used over and over again. Sure diamonds are a girls best friend but it's also great to get something practical and that can really be useful.
Evirosax
combines all of my favorite things: green, bags and style!
Here is more about them from their website:
The philosophy of Envirosax is to help create a better future for our planet by spreading the environmental message through colour and script using the Envirosax eco-friendly reusable bag as the vehicle.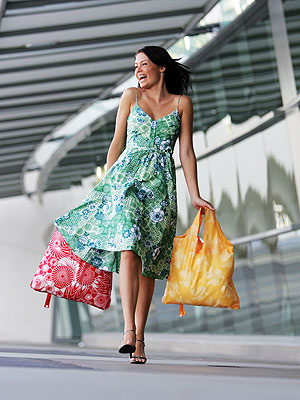 Evirosax is proud to help protect the environment for tomorrow's generation by providing an eco-friendly alternative to disposable shopping bags that have caused so much damage to the environment worldwide. Envirosax bags are lightweight, portable, waterproof and each one holds the equivalent of two supermarket plastic bags thanks to reinforced seams.
We believe in environmental sustainability. Plastic bags clog drains and cause flooding. They pollute rivers and streams, killing animals and destroying plantlife. They take years to photodegrade and have a very short life span. Envirosax provide a compelling alternative to the plastic bags which are doing so much damage to our planet.
Evirosax donates a percentage of its sales to charities and non-profit organisations dedicated to the preservation of the environment.
Evirosax
has so many great designs for the whole family from the to die for Sesame Street bags for the kids to great neutral bags that are perfect for the guys.
Evirosax
also offers a variety of products such as water bottles, value sets of bags and so much more.
Being green is such a huge movement that is spreading across society, one that I know is very important in sustaining our world and resources. In fact many of the grocery stores I go to have started the practice of trying to ween consumers out of using plastic bags by many initiatives such as charging for plastic or rewarding shoppers who bring reusable bags.

Evirosax
bags are a huge hit with celebrities who are also green minded! Such celebrities as Justin Timberlake, Jessica Biel, Jessica Alba, Jennifer Garner, and countless others all tote their fashionable
Evirosax
bags! Evirosax has also been featured in such magazines as: People, Marie Claire, Elle, Shape and so many more.
My Review:
I was so lucky to be able to review a great product from
Evirosax
. I was lucky enough to review a bag from their amazing new Optimistic Series! The new Optimistic Series aims to deliver a positive outlook through these vivacious, happy-go-lucky bags. Made for those who want to live life to the fullest, Optimistic brings bright colors to a monochromatic world.
After a long deliberation I finally decided upon the
Optimistic Bag 2
because I loved the bright cheery colours and the colourful polka dots! It can be easily folded up and made much smaller. This is perfect for shopping and throwing it into your handbag because you never know when you will need it!
Here are the dimensions of this bag:
Bag Dimensions (unrolled):

50cm x 42cm
Bag Dimensions (in pouch):

10.5cm x 4cm
Weight Capacity:

20kg
Bag Weight:

40g
I love that this bag is so roomy and that it can fit many items. Although this is a great shopping bag I love using it for many other purposes as well. I use it as a tote bag to carry around my gym stuff and use it whenever I'm going to a friend's house to get ready for a night on the town.
This bag is super strong and I was quite surprised at how much this bag can actually carry. This bag can carry a very impressive 20 kg! So it carry pretty much anything you may throw into it!
If you love Evirosax as much as I do you will be happy to know that one person will get to win a bag of their very own!
The Giveaway
Evirosax has so kindly offered one reader the chance to win their choice from their brand new Optimism Line!
This giveaway is open to residents of the US and Canada and is valued at $10!
This giveaway will end on May 15th!
How to Enter
There are three ways in which you can enter: Fill out the form below, click here to fill out the form, or enter through the comment section. Also if you want to add more entries but have already filled out the form you can just add the extra entries that you did in the comment section so that you won't have to fill out the form again.